'I've been involved in teaching in many different ways, from teaching to management. As a psychologist, I am able to really see and understand people. The combination of these two has proven extremely fruitful in the creation of happiness-at-work.'
Meer over Netty
The WemasterEd programme reduces your workload. Dialogue helps you to determine your organisation's essence and to make choices. It creates calm at school.
Your passion is your work: the child
You work in an open and secure environment
You make the decisions on your tasks
You are appreciated for your qualities
Together, you examine a question through real dialogue: you genuinely listen and share personal experiences resulting in a growing connection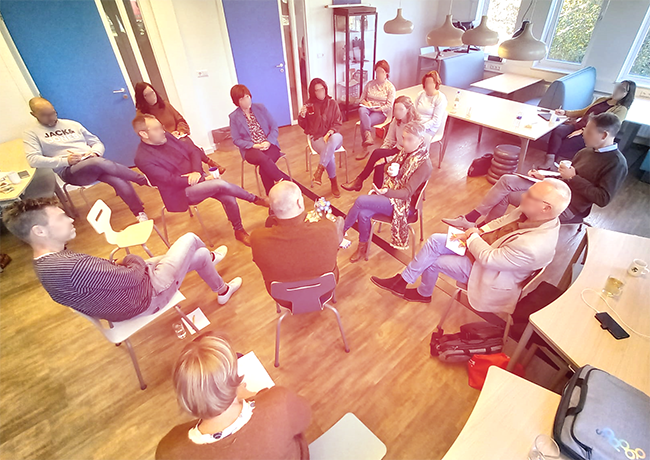 Click here for our programme.
A connection between your personal passion and what inspires your school. As a team you learn to embrace that inspiration.
The space that exists within the framework of shared commitments. You learn to make use of that space and to take steps you did not think were possible before.
Unity in diversity, because you really need one another. You learn to appreciate the contribution of each team member.
Growth resulting from feedback on your personal goals. Your learn to encourage your own growth and that of the team.
by asking the right questions.
It is good to have an honest conversation about issues that often do not get discussed. Netty has the courage to dig deeper, with visible results.

Krijn van Dijk

Hoornbeeck Goes
Netty is a determined woman who has the ability to read other people. She knows how to get to the bottom of things

Jeanette van Zielst

Sopogo
by asking the right questions.
Plan an inspiration session (no strings attached) and experience the powerful effect of dialogue.
Plan now
Wemastered
Ambachtsherenlaan 40
3271TM Mijnsheerenland
0186 602853
netty@wemastered.com